NEW DELHI:
Monsoon
has, so far, not been kind to north-west India where it may take seven more days to reach, but it has performed well in other parts and is most likely to be 'normal' in the country as a whole in July. Good rainfall from mid-July, specifically during the third and fourth week, is expected to bridge the gap caused by the 'break phase'.
Though the current heatwave conditions in the north-west and adjoining central India, including north-west Madhya Pradesh, will continue only for two more days, there will be no respite from uncomfortable conditions during the next seven days due to an increase in humidity.
"The rainfall averaged over the country as a whole during July is most likely to be normal (94 to 106 % of the long period average)," said M Mohapatra, director general,
India Meteorological Department
(IMD) on Thursday while releasing the monthly forecast and map of the spatial distribution of rainfall for this month.
The IMD, however, predicted that the rainfall condition in north-west India – Punjab, Haryana, Delhi, parts of Rajasthan and west Uttar Pradesh – will remain subdued and is likely to be "below normal" this month.
On heatwave conditions in these states that will continue for the next 1-2 days, Mohapatra said, "It is likely to decrease in intensity and area coverage due to expected south-westerly winds from the Arabian Sea. However, due to an increase in humidity in association with these winds, the human discomfort will continue during the next seven days."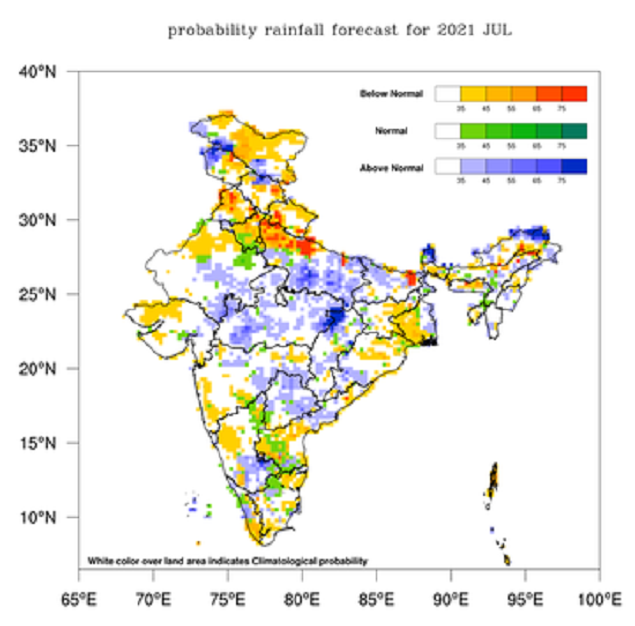 The spatial distribution of probabilistic forecasts for July shows that Monsoon will also be 'below normal' in some parts of the south peninsula, central, east and northeast India. But it will be "normal to above normal" in most parts of the country – primarily in the Monsoon core zone (rainfed irrigation area) – covering parts of central India and adjacent areas of peninsular India, and Gangetic plains spread over Uttar Pradesh, Bihar and West Bengal.
Heavy rainfall spell over Bihar, eastern UP and parts of the northeast may even lead to floods, localised waterlogging and traffic disruption in certain districts during the first week of this month.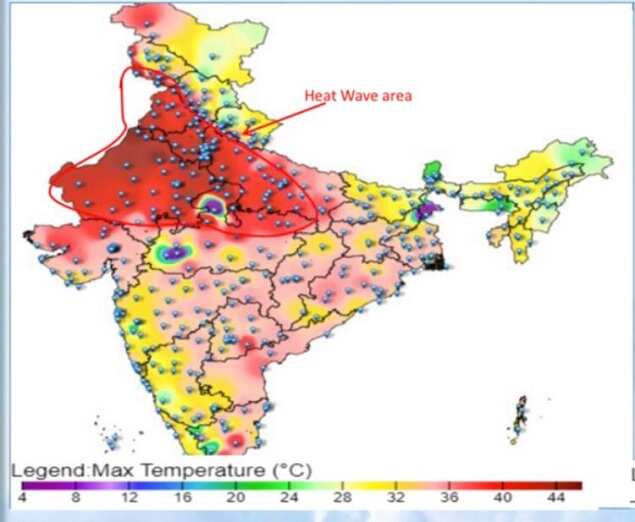 Though the current phase will slightly shift the sowing operation in the northwest, it may not affect the overall Kharif (summer-sown) crops such as paddy and maize if rains picked up from mid-July as predicted.
"The delay has, however, already affected the standing crop of 'jowar' (sorghum) in northwest India. Farmers still have enough window for paddy and maize, but it'll depend on how Monsoon behaves from mid-July to August," said Raj Singh Deswal, retired hydrologist of the Central Water Commission (CWC), who knows farming patterns of the region.
He noted that the farmers could be prepared for this adverse situation as they go by "traditional wisdom and past experience" which show that if the region gets higher than normal rains in the initial month, the overall Monsoon rains would be highly subdued or below normal.
Indeed, northwest India received 14% higher rainfall than normal in June. Even the country as a whole received 'above normal' rainfall on most days in June.
Source link

I am only use feed rss url of the following postowner. i am not writter,owner, of the following content or post all credit goes to Source link