MUMBAI: After several hours of questioning through Tuesday, the ED early on Wednesday arrested
Girish Chaudhari
, son-in-law of the state's former revenue minister
Eknath Khadse
, in a money laundering case related to the MIDC
land deal
in Pune, report Vijay V Singh and Rebecca Samervel.
Chaudhari was produced before a PMLA court, which remanded him in ED custody till July 12. Meanwhile, ED summoned Khadse for a further statement on Thursday. It had recorded his statement earlier in January.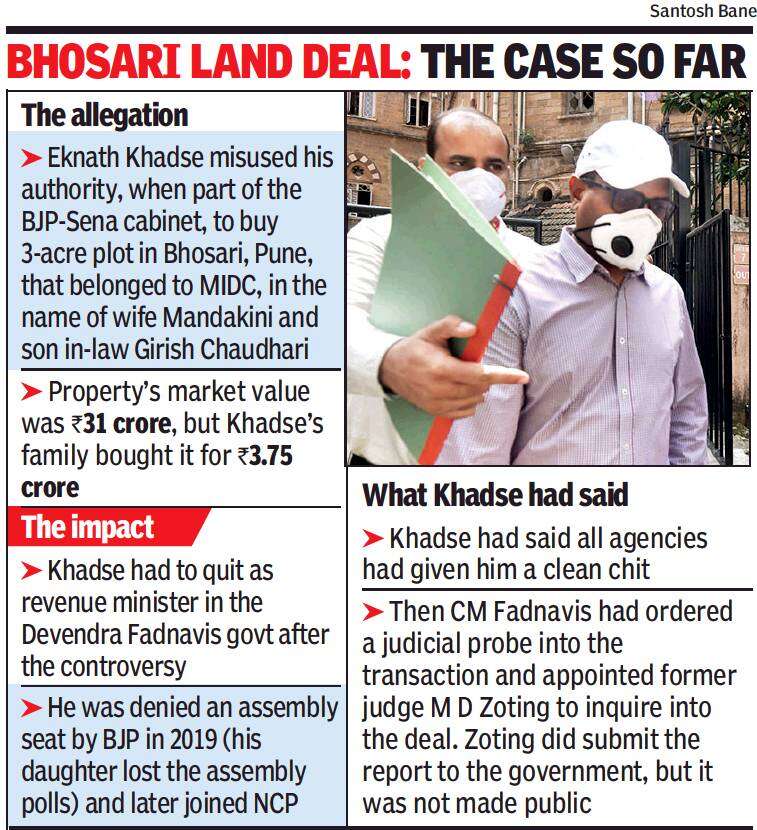 The ED's case is based on a state Anti-Corruption Bureau FIR that has accused Khadse, his wife Mandakini, Chaudhri and one Abbas Ukani for land grab of a MIDC plot in Bhosari, Pune district, and causing a loss of Rs 61.25 crore to the government by fraudulently entering into a sale deed. The ED probe showed Chaudhari, in connivance with others, entered into a sale deed to avail compensation over 2.5-3 times the actual value of the land. The land originally belonged to Ukani and was reserved for MIDC. There was a legal dispute between Ukani and the government over compensation to surrender the land.
During investigation, it was found that Chaudhari claimed the source of funds to purchase the property as loan from some companies. However, these funds were layered and routed through shell companies, which are either dysfunctional or ceased to exist later on, the ED said.In Chaudhari's remand application, the ED stated the land was acquired by MIDC and there were various industries on the plot, so it was not possible to execute the sale deed with its original owner Ukani in April 2016 for Rs 3.75 crore. The ED alleged Khadse and others made illegal changes and alteration in government record to execute the deal.
It was alleged Khadse had misused his minister's post in 2016. Subsequently Khadse as revenue minister in the BJP-Sena government, pressurised his ministry's officials to acquire the land from his kin after paying them Rs 61 crore compensation. The sub-registrar had earlier provided the value of the plot as Rs 31 crore, but Khadse coerced government officials to reduce market value of the plot to Rs 3.75 crore on government record, the ED said.
It created a controversy before the payment of compensation, and subsequently Khadse was forced to resign from the post. Khadse is now with NCP.
Chaudhari's advocate Mohan Tekavde opposed the remand plea and said he had cooperated with the investigations. "Girish Chaudhari is being targeted only because he is the son-in-law of Eknath Khadse. He has been falsely implicated. There is no evidence to show that any loss of Rs 61 crore was caused to the exchequer as the ED has claimed. Further, it has not been proved that the disputed land belongs to MIDC," Tekavde said.
In his earlier statement to the ED, Khadse had denied any knowledge about the land deal after stating that it was executed by his wife and the son-in-law.
In this statement to the ED, Chaudhari said that he, along with mother-in-law, had purchased the land from Ukani and he found the plot through a local agent. But Chaudhari refused to provide details of the local agent, claimed ED officials.
Chaudhari further told ED officials that he was aware the land was reserved for the MIDC, but he was advised that there was no need to take any NOC from MIDC. Chaudhari told ED officials that he raised the Rs 2 crore loan from Benchmark Buildcon Pvt Ltd as its chief director Om Prakash was known to him since 2003. But Chaudhari refused to provide details of Om Prakash, said ED in the remand application.
The application further added that Benchmark Buildcon Pvt Ltd was a shell company, it received the money from five other suspicious companies which was immediately routed to Chaudhari for purchasing the plot.
Source link

I am only use feed rss url of the following postowner. i am not writter,owner, of the following content or post all credit goes to Source link